Posted by
dani
on Oct 14, 2009 in
Boston
|
2 comments
posted on behalf of @sarah_connors and @mhcranberry
Updated 12/4: The Winter Classic NHLtweetup is now sponsored by Bud Light and Verizon Wireless!
Bruins fans and hockey fans from around the country/continent/world – it's time to plan the first #NHLTweetup of 2010.
That's right – the Winter Classic NHLtweetup is officially on, hosted by the NHL and Bruins tweeps, @sarah_connors and @mhcranberry! Throw off your New Year's Eve exhaustion and meet us at An Tua Nua on January 1st at 11am, an hour before the Winter Classic officially kicks off. An Tua Nua is conveniently located about a block from Fenway Park right near Kenmore Square, the heart and soul of Red Sox Nation. With sponsorships from Bud Light and Verizon Wireless, and giveaways, raffles, and other fun events in the works, this is going to be an NHLtweetup you don't want to miss. If you happen to score tickets to the game, just head on over and meet us afterward!
For those traveling from out of town, details about lodgings and transportation is available here. Additionally, for those staying the entire weekend, we've got some other outings planned (specifically for new years eve and Sunday, Jan. 2) so stay tuned to our twitter streams, @NHLtweetup and NHLtweetup.com for forthcoming details!
And if the epic of the Winter Classic itself weren't enough…@metricjulie and @sarah_connors placed a little wager, @dani3boyz and @speakofthedevs-style, on the November 5th game Bruins/Habs game. Unfortunately, the Bruins lost, so…we're raffling off a 1915-1916 replica Habs jersey with an as-yet-undetermined number (feel free to comment on the post with what number you think julie should put on it!), which @sarah_connors will be wearing all night! At least one other prize will be announced closer to the tweetup, but you can get details about and enter the Epic Charity Wager raffle here.
Please RSVP as soon as possible, as space at An Tua Nua is very limited. SEE YOU IN BOSTON!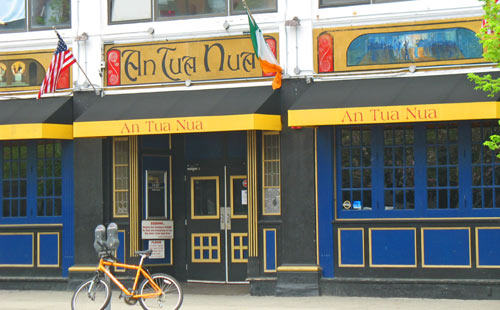 Sponsors:
Don't forget to follow @nhltweetup on Twitter for up to date info on upcoming NHLtweetups!